Poker Myths & Poker Truths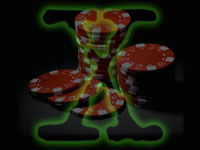 Of all the casino games around which are popular with the gambling fraternity, poker is perhaps the one which attracts the most attention. And as with anything popular there are myths and legends surrounding the game which are perpetuated over time. To help you to get to the bottom of just what's what, here are a few myths and truths to set you straight...
Myths
Poker is a game of luck. This is simply not true: poker requires skill from the player, and of course an element of luck is not a bad thing.
You can get good at poker by reading a book. This is a dangerous one to believe as the only real way to become a great player is by playing and practising a lot.
If you play your cards well you can't lose. Again, not a good thing to believe – the key to success is often reading the other players as well as playing well with your cards.
Truths
If you play online then you might not really know who you're playing against: I've even known men to use female screen names in order to get other players to go soft on them, so be careful.
It's about making good decisions. How you play your cards, how you judge your opponents and when to walk away. A level head and some good knowledge will see you right.
Only play with an amount of money you can afford to lose. Simple but a really good one to pay attention too: avoid unwanted difficulties and be confident while you play.
And if what you've read here has totally put you off the game of poker or it's simply not for you, then head on over to Chitchat Bingo for a nice relaxing game of bingo, great entertainment and lots of fun.
Perfect!